We made it to the holiday season of another crazy year! If you're like me, you haven't started your shopping yet. But no worries, spread some holiday cheer to your favorite Self Care Stoner with gifts handpicked by me from our Holiday Cannabis Gift Guide. From Newbie to Cannabis Connoisseurs, we've got something for everyone!
Listen to the full holiday cannabis gift guide episode
This post contains affiliate links. Header photo credit: Cannaclusive
Newbies
Do you have a friend who is canna-curious and just getting started down their cannabis journey? Here are some suggestions for the newbies out there.
Loose CBD Tea from Twin Flame & Tea Set
CBD is great for newbies because you typically do not feel a high after consuming CBD, but it still gives you all of the benefits like relaxation, stress relief and pain management. I love Twin Flame's natural, hand-blended loose leaf teas. Grab a cute tea set on Amazon and you'll have a very relaxing gift!
Juju Royal Gift Box
Juju Royal's CBD Infused Ginger Honey is super yummy! They have gift boxes available with a variety of their products including the CBD ginger honey. Infused honey is soo good! You can add it to tea, drinks, food, etc. so if you know someone who cooks and wants to try infusing something, this could be a great start.
Stoners
She's the person who is a cannabis user but may not be a super heavy user, they just like to get high. The stoner might be more advanced so they could be open to new ways to incorporate the plant into their daily lives.
Cannabis Subscription Box
Know someone who likes to try all the things? Cannabis subscription boxes are on the rise and the perfect gift for the stoner that has everything! I've personally tried this one from Hemp Crate Co. and it's packed with fun CBD products like tinctures, lip balm (I literally 💚 lip balms), and CBD lotion!
Crate Joy has a bunch of cannabis subscription boxes to fit your giftee's personality! Here's a list of all of their cannabis-themed subscription boxes!
Save 25% off select Subscription Boxes at Cratejoy's Black Friday Sale w/ code BLACKFRI25
Also, remember that THC is still illegal federally and therefore can't be shipped in the mail. Keep that in mind that most of the products will be CBD infused when reading about what is included in the box.
Some Glass
Most people start out smoking joints or blunts using wraps and papers. The next step up from that is using some form of glass. It could be a bowl, water bong or something else. Grasscity has an amazing selection of stoner glassware!
Stash Box or Bag
Every queen stoner NEEDS a stash box to keep all of her canna-accessories organized! Stash bags are great for keeping your weed air tight. And who doesn't love to roll up on a cute rolling tray? Check out Grasscity's selection of stash bags and rolling trays.
Cannabis Connoisseur
She's a cannabis connoisseur and loves all things weed related. These gift ideas are for your favorite pothead (which can also be your damn self!)
Home Cannabis Grow Kit: A Pot for Pot
Give the gift that keeps giving back! This growing kit has everything you need to grow your own stash, minus the seeds and light. I have the mini version pictured and would recommend the bigger sizes if you have enough space. Keep in mind the legality of home grown cannabis in your specific state!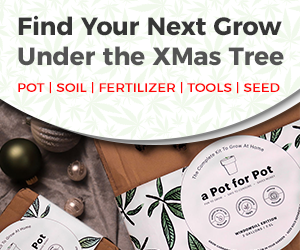 CBD Infused Lube
Sex and cannabis are a winning combination like no other. If you want to learn more about how the two go hand in hand, check out episode 5 of High on Self Care! One amazing CBD infused lube is Quim's Happy Clam. Quim is a black woman owned cannabis company!
Cannabis Merch
If your cannabis connoisseur loves cannabis merch, check out this black woman owned shop! Stoner T-Shirts by Blunt Blowin' Mama.
Dab Rig or Dab Pen
I've been getting into concentrates and wax lately and I have to say, I feel like I've reached a new level of smoker. The cannabis connoisseur in your life has to give dabs a try. I love my flower, but it's always nice to try something new when you're a seasoned veteran.
Book a Cannabis Tourist Trip
My friend recently shared with me that she has been doing cannabis tourism. Yes, it's a thing and it sounds so fun! You can visit farms, lounges and more. Like Josephine & Billie's which is a black woman owned cannabis speakeasy that is backed by Jay-Z's cannabis investing company. States that were among the first for legalization are good places to start looking for cannabis tourism like Colorado, Oregon and California.
Other Ideas:
Through intervention, advocacy, and awareness campaigns the Last Prisoner Project works to redress the past and continuing harms of these unjust laws and policies.
Consider making a donation on behalf of someone you love by helping free someone else's loved ones in jail for cannabis-related offenses.